Trusted Choice
Secure Booking
Airlines will always try to sit children with their parents (subject to check-in)
Some airlines will allow travel for unaccompanied minors. Please email us to check.
The fare is based on the child's age on the date of travel.
More detailed information can be found here Traveling with children
Most airlines will let infants travel with their parent(s) for free. However some airlines will charge up to 10% of the adult ticket price. Click on 'Price Breakdown' to find out more.
If you are pregnant, but due before the flight departure date, please contact us once your baby is born and has a name. We can then add him/her to your ticket.
Infants will not be given a seat. The airlines expect parents to travel with them on their lap.
Airlines regard infants as being under 24 months old.
The fare is based on the child's age on the date of travel.
More detailed information can be found here Traveling with children
Search and book flights with
Southwest Airlines
Buy
Southwest Airlines

Flights
Search, Buy and Book Southwest Airlines Flights Online
Make a Reservation Today and Find Some Amazing Deals
---
About
Southwest Airlines is a major low-cost US airline and is headquartered in Dallas, Texas. They fly to many destinations, including Chicago, Baltimore, Washington, Midway, Las Vegas, Denver, Dallas, Phoneix, Houston, Orlando, Atlanta, Los Angeles, Arizona, Oranjestad, Nassau, Belize City, Liberia, San Jose, Punta Cana, Mexico City and many others.
The airline carries the most domestic passengers of any US airline. Its extensive fleet consists of Boeing 737-300s, Boeing 737s, Boeing 737s and Boeing 737-800s. In total, the airline has a fleet of over 750 aircraft and flies to over 100 destinations in 45 states and over 10 different countries.
On May 2, 2011, the acquisition of AirTran Airways was completed by purchasing all of the outstanding common stock, corporate identity and operating assets of AirTran Holdings, Inc., the former parent company of AirTran Airways. They first announced the acquisition on September 27, 2010, and received final approval from the United States Department of Justice on April 27, 2011. After acquiring AirTran Airways, a codeshare agreement was signed with AirTran on February 14, 2013. The agreement ended after AirTran became fully integrated on December 28, 2014.
---
Baggage

Carry-on Baggage
Passengers are entitled to one item of carry-on baggage per person. This carry-on bag must not exceed 25 x 40 x 60 cm. In addition to this, passengers are allowed to bring one personal item with them on the flight, for example, a small rucksack, a handbag, a briefcase or a laptop. This small personal item must not exceed the overall dimensions of 46 x 22 x 34 cm.
Checked Baggage
Passengers are allowed two items of checked baggage free of charge. This baggage must not weigh more than 22kg per piece and must fit within the overall dimensions of 157 cm (L x W x H).
---
Check-in
Online Check-in
For passengers with a reservation, web check-in is available on all flights. You can check-in online by visiting the online check-in page and entering your confirmation number, first and last name. Online check-in opens 24 hours before scheduled flight departure time.
Airport Check-in
Airport check-in can be completed by visiting the dedicated check-in counters at the airport of departure. Airport check-in opens three hours before scheduled flight departure time and generally closes 30 minutes—one hour before.
---
Frequent Flyer Program
This airline operates a frequent flyer program called Rapid Rewards to reward its regular passengers. The original Rapid Rewards program offered one credit per one-way flight from an origin to a destination including any stops or connections.
When 16 credits were accumulated in a 24-month period, one free round-trip ticket is awarded, valid for 12 months. On March 1, 2011, Rapid Rewards changed to a points system based on ticket cost. Members earn and redeem points based on a three-tier fare scale multiplier and the cost of the ticket. Changes also included no blackout dates, seat restrictions or expiring credits. It also adds more options to use points.
It's now easier than ever to collect frequent flyer points easily with Alternative Airlines and enjoy the benefits of your chosen alliance. If you have not yet chosen an Airline Alliance, check out our article to find out which frequent flyer program is best for you.
---
How to Book a Flight on Southwest Airlines
To make a reservation with Alternative Airlines, simply search your departure and destination cities into our search bar above. You can use our filters to select Southwest flights only. Once you get to the passenger details page, you can choose one of our many ways to pay, including PayPal, Amazon Pay and Visa Checkout. When making a reservation with Alternative Airlines, you can also book a seat on your plane when purchasing your tickets, rather than waiting till check-in.
---
Payment Plans
Buy your flights and pay for your Southwest tickets in instalments with Alternative Airlines. You can buy your flights now and pay at later date on a payment plan by choosing Fly Now Pay Later (UK only), Affirm (US only) or PayPal Credit as a payment method. At Alternative Airlines, all flights on Southwest are available to pay off in instalments, no matter what the route. Find out more information on how you can buy flights on finance.
---
Route Map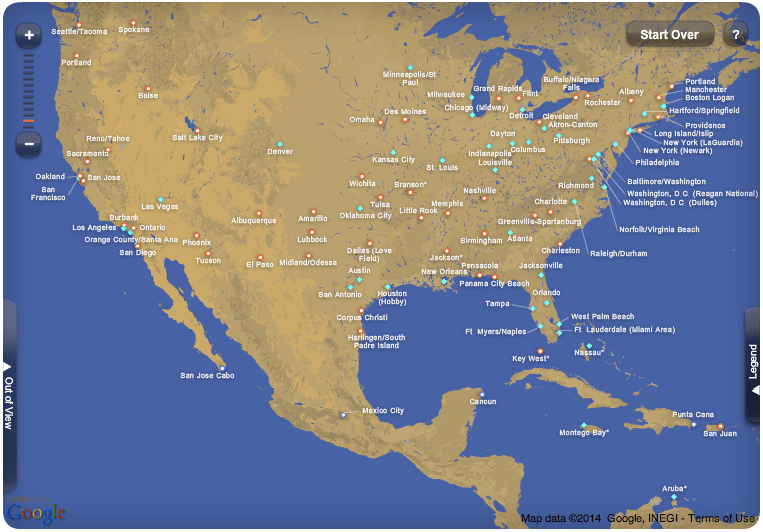 ---
Popular Routes
Dallas

Orlando
Los Angeles

Dallas
Houston

Dallas
Dallas

Denver
Dallas

Las Vegas
Baltimore

Dallas
---
The Fleet

The fleet includes 513 Boeing 737-700, 207 Boeing 737-800, 30 Boeing 737 MAX 7 and 26 Boeing 737 Max 8 aircraft. It has one of the biggest fleets in the world. As of 2018, the airline is the fourth-largest carrier by fleet size.
---
Hub Airport
Dallas Love Field
Dallas Love Field is a city-owned airport-based 6 miles outside of the city of Dallas. The airport was Dallas' main airport until Dallas Fort Worth International Airport opened in 1974. Other airlines that operate out of the airport include Alaska Airlines and Delta Airlines.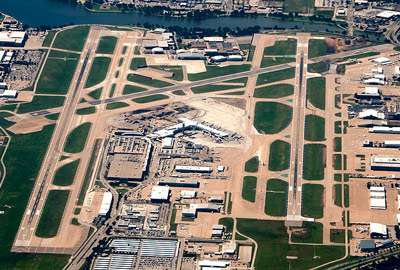 Photo credit: Danazar
---
Alternative Airlines
---
Destinations
Southwest Airlines flies to 110 destinations, both domestically and internationally.
Domestic Destinations
Southwest Airlines flies to 93 domestic destinations within the US.
International Destinations
Southwest Airlines flies to 17 international destinations around the world.
| | | | |
| --- | --- | --- | --- |
| Belize City | Cancún | Dublin | George Town |
| Havana | Liberia | Los Cabos | Mexico City |
| Montego Bay | Munich | Nassau | Oranjestad |
| Providenciales | Puerto Vallarta | Punta Can | San José |
| Saé Jose | | | |
---
Economy Class
All seats on Southwest flights are economy as standard; this is the only class on all flights.
Economy Class Facilities
Economy class passengers receive free in-flight entertainment, including films and tv shows. All seating is open-seating, meaning that passengers simply choose their seat once they are on the plane. This avoids having to rush to get to check-in or pre-select your seat.
Economy Class Seats
The seats on the modern planes are a 32-inch pitch, 17.8 inches wide with 2 inches recline and adjustable headrests. This is reported to be one of the most comfortable economy seats on low-cost carriers, as the company have larger-than-average sears with enhanced cushion support in the seat.
---
Premium Economy Class
There is no premium economy currently available with this airline.
---
Business Class

Southwest has a booking fare called Business Select, which allows passengers certain privileges when flying with this airline. Although the onboard seating arrangements will be the same as every other passenger, such as being in the same cabin, Business Select passengers get priority features which enhance their experience.
Business Class Facilities
Passengers will get guaranteed priority boarding, which is perfect for the open-seating plan, as passengers can enter the plane first, choose their seat and settle before the rest of the passengers are permitted on the plane. Check-in is also quicker, with lines all being fast-tracked for security and check-in. Passengers in Business will also receive a complimentary premium drink voucher to use on the day of travel, which includes options of alcoholic beverages.
What are the Business Class Seats Like?
The seats for business class are just the same as economy class, which are described above.
---
First Class
There is currently no first classed offered on this airline.
---
Deals and Discounts
Looking for discounted Southwest Airline tickets? Save money on any Southwest reservation when booking with PayPal. See all our flight ticket promos and coupons. See all the reasons why it is safe to book flights with PayPal and the benefits. Book with Alternative Airlines today and buy flight reservations on discount with our PayPal discount codes! You can get Travel agent discount codes with Alternative Airlines.
Alternative Airlines is an online flight search and travel agency which provides a huge amount of deals for Southwest flights. If you are looking for discounts on Southwest airfares then check out all the deals and offers you can save on!
---
Pay for Southwest Airline Tickets with Paypal
Buy airline tickets with Alternative Airlines and pay with PayPal. Alternative Airlines is a travel website that accepts PayPal for Southwest flight reservations. Pay for Southwest with PayPal easily and securely.
---
Emergency and Bereavement Flights
Buy your emergency Southwest flight with Alternative Airlines. If you are needing to buy a last minute flight for a funeral or a family emergency, then Alternative Airlines will help you through this stressful process. See all information on flying in an emergency or information on bereavement flights with Alternative Airlines.
---